Prodrive Technologies is developing a wireless charging system for applications in automotive and other industries. Wireless charging improves comfort and ease of use and allows for efficient and ad hoc charging of electrical and hybrid vehicles without having to connect cables.
System overview
An end-to-end solution is offered to vehicle manufacturers, from mains connection to HV battery output. System components include wallbox (1), ground assembly (2) and vehicle assembly (3). Prodrive Technologies' experience with both automotive and industrial systems provides an competitive advantage to our customers by being able to comply with both automotive as well as consumer or industrial standards.
Applications
The wireless charging system is primarily developed for the automotive industry. These high standards also enable applications in other industries such as material handling and medical applications.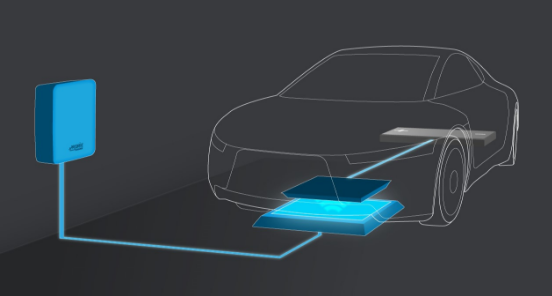 Power levels and variants
Current products support 3.7kW and 11kW (SAE J2954). 7.2kW and 22kW (WPT2 and 4) are under development.
Air gaps up to SAE J2954 z2 (210mm) are currently supported, air gaps up to 250mm (z3) are under investigation and will be developed upon request.
Output voltages of 400V and 800V are offered for the vehicle assembly. Worldwide mains connections are supported, including 110V and 230V and 1/2/3 phase connections.